In recent months, the focus for the Unemployment Relief Programme (URP) in Tobago has been to increase productivity.
One of the areas where this strategy has borne fruit is the Furniture Workshop team. The team is currently restoring nearly 100 school benches for Scarborough RC School for the new term.
The 2018-2019 school term opens on September 3.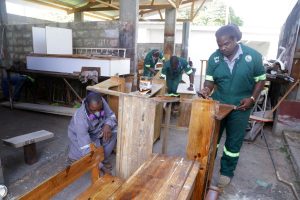 According to the Division of Infrastructure, Quarries and the Environment, "much attention is [being] given to inspecting the stock of benches and ensuring that safety standards are observed". This is being done, the Division said via media release, as the safety of students is a "top priority".
The URP has embarked on producing quality furniture for the benefit of the island's residents.
Recently, the Concrete Products Unit installed concrete benches as part of phase 1 of the Buccoo Enhancement Project. The scope of works for that project also includes installation of a pedestrian walkway, as well as railings.