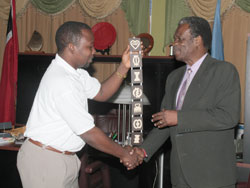 THA Chief Secretary Orville London has said there was nothing about Africa to be ashamed of and was not comfortable with the portraying of the continent, especially civil wars and famine aired by the international media.
"We are often not in a position to understand the true Africa through the eyes of the international media. There are always negative things said," he told a two-man visiting UNESCO delegation from the Republic of Ghana during a meeting at the Calder Hall Administrative Complex on Tuesday. (31st January 2012) They were accompanied by National UNESCO ASP Coordinator Monica Regisford-Douglin and Speyside History Teacher Shame Andrews.
The two Ghanaians are on an exchange visit to Trinidad and Tobago to experience the way African slave ancestors lived. Their visit followed a visit last year by 26 students and teachers, 15 of who were from the Speyside Secondary School in east Tobago.
London said, "We in the Caribbean have to really do everything possible to make sure that we always appreciate the development aspect of it and there is nothing about Africa today of which we should be ashamed about."
He suggested to the meeting that UNESCO in collaboration with the THA and any other agencies in the country arrange further exchange visits, the twinning of schools and anything else that would extend the camaraderie and bond with Africa. He requested the visitors to identify at least one project, not necessarily a visit to Ghana, for Tobagonians to participate.
Ghanaian UNESCO Representative Apollonius Asare said Trinidad and Tobago reminded them of their home. "You have everything we have in Ghana," adding that on a visit to the market they found the food to be the same, except that the method of cooking was different. He described the greenery here as "fantastic" and said his country was presently undertaking a reforestation programme.
He noted that there were no homes for the aged in Ghana and said this showed a breaking up of family relations in Trinidad and Tobago.
Representative of the Non-formal Sector for Education in Ghana Enoch Dankwa said while there was free primary school education, there was no free secondary education.
Speyside Secondary history teacher Shane Andrews who visited Ghana on the exchange said: "Every black man in the Diaspora should seize the opportunity to visit Ghana. He said while there they visited a number of slave castles.
THA School Supervision Co-ordinator Dr Verlene Bobb-Lewis said Tobago could create a link with Ghana through its heritage festival and identified the areas of history, food, dances and drumming through which it can collaborate.