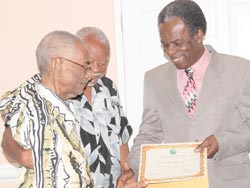 Chief Secretary Orville London has extended condolences to the family and friends of well-known Tobago icon Edward Hernandez who died earlier this week.
The Chief Secretary said Tobago had not only lost an icon but a man who combined genius with commitment and compassion.
He said Hernandez was a highly talented artist who was always eager to share his experience and his expertise with persons of all ages and at all stages throughout his life.
"He had passion, a love and almost a reverence of all aspects of the island's culture and his work as curator of the Tobago Museum, as a foundation member of the Tobago Trust, as a collector of artefacts and as a researcher of Tobago's history have identified him as one of the most significant cultural influence in the history of this island," London said.
London noted that Hernandez was the holder of numerous awards including the Public Service Medal of Merit (Silver) but his greatest tribute was the out pouring love and appreciation from individuals and organisations throughout Tobago and the country. "Although he is gone his memory will live on in his paintings, his artefacts and his writings but most importantly in the hearts and minds of all those whom he influenced in a very highly productive life," he added.
Hernandez who created the logo for the annual Tobago Heritage Festival 26 years ago was involved in the cultural life of the island for several years, coordinating activities for the Festival, Carifesta and archaeological field workshops for visiting university students. He also represented Tobago at several seminars sponsored by UNESCO, regional bodies and the International Council of Museums.
The funeral service for Hernandez takes place at 10 a.m. on Wednesday at the St Andrew's Anglican Church, Scarborough.