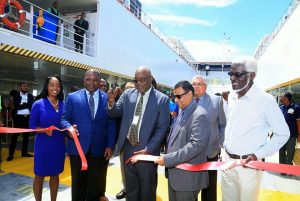 The Galleons Passage, a passenger/cargo ferry that will service the inter-island sea bridge, made its first official trip from Port of Spain to Tobago yesterday (October 8, 2018).
And Chief Secretary Kelvin Charles said with two vessels on the route, as well as cargo vessel the Cabo Star in operation, things are looking up for inter-island transportation.
"We would've witnessed some time ago the collapse of the sea bridge," Charles said. "All things being equal, we have passed the worst," he said.
The vessel left the Port of Spain port around 6:30 a.m. yesterday morning (October 8) with more than 80 people on board, including Minister of Works and Transport Rohan Sinanan. It took just over four hours to get to Tobago.
When the vessel docked at the Scarborough Port, Charles, Secretary of Finance and the Economy Joel Jack and Secretary of Tourism, Culture and Transportation, Nadine Stewart-Phillips boarded the vessel to greet Minister Sinanan and his team.
After the ribbon-cutting ceremony and blessing of the vessel, THA representatives were given a full tour.