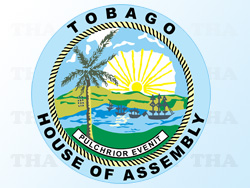 Support for the strategies and the measures implemented by the Division of Tourism and Transportation to bolster the tourism sector in Tobago will be sought on Thursday (28th February 2013) when the Tobago House of Assembly (THA) sits for the second time in the 2013-2017 session.
Deputy Chief Secretary and Tourism and Transportation Secretary Assemblyman Tracy Davidson-Celestine said a vibrant tourism sector was critical to the economic development of the island and the recent global economic slowdown had created significant challenges for the tourism sectors in the region and the rest of the world.
She noted that her Division had initiated strategies and implemented measures to bolster the sector in Tobago during this challenging period.
A contingent of entertainers and tourism stakeholders as well as officials of the Division went to Toronto and Ottawa last week on a promotion drive to sell Tobago as a tourism destination. Next two weeks Davidson-Celestine will head a Tobago group to this year's ITB Travel Show in Berlin
"Tobago Go Go" campaign which started three years ago to facilitate late winter bookings in Scandinavia and the United Kingdom was one of the successful initiatives introduced by the Division three years ago. In this campaign travelers in those markets were being offered up to £100 off packaged holidays to Tobago for at least a seven-night stay. Almost 3,500 passengers have so far made bookings through travel agencies in Scandinavia and the United Kingdom.
The Division was also in negotiations with a Canadian airline to operate a charter service directly from Toronto to Tobago to commence in the winter season of 2013 and was also in the final stages of negotiating with an European airline to introduce a once a week charter service from Scandinavia to Tobago in the winter period of 2013.
The cruise ship industry was also showing signs of an increase in arrivals. Approximately 39 cruise ships including three new ones were expected to call at Scarborough and Charlotteville by the end of this season in April, bringing over 35,000 passengers, an increase of more than 2,000 over the 2011/2012 season.