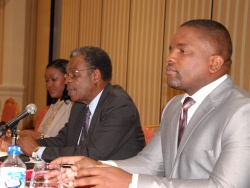 Tobago's "real budget" will be presented to the Tobago House of Assembly legislature at its plenary sitting on October 25, Chief Secretary London has disclosed.
He said this budget will be based on the resources available to the Assembly and how it plans to utilise them.
London was speaking at a media briefing on Friday at the Magdalena Resort following a two-day retreat attended by Secretaries, Assistant Secretaries, Administrators and accounting staff.
The retreat was held in response to the $2.477 billion allocation Tobago received in the 2013/2014 national budget and which London described as a great challenge. He said the Assembly therefore needed to take a proactive approach and do what was necessary to ensure it derived optimum benefit for the people of Tobago.
London said the Assembly will be unable to deliver the goodies to the people that were pledged when Finance Secretary Joel Jack delivered a budget on June 24 and therefore it had to prioritise so as to ensure there was an efficient delivery system.
He said they will be meeting with the various stakeholders to share with them their recommendations and then go to the House "now that we know what Tobago's allocation is to present to the people of Tobago the real Tobago budget".
"We will be able to say with much more certainty what our resources are, what our challenges are and what we can deliver. We will make sure that we keep the Tobago populace and all of Tobago in the loop" London added.
Secretary of Finance Joel Jack said while no allocation was given for CEPEP and with a shortfall of $51 million for URP "not a man or woman will be sent home" He said major projects like the Scarborough Library and the Shaw Park Cultural Complex will be continued but no new major projects like the Bacolet Aquatic Centre and the Bacolet Indoor Sporting Complex cannot be started.
He said the retreat also identified savings that could be transferred to undertake ongoing smaller projects.
"We will have to cut and contrive for Tobago's development. We cannot delay any further because Tobago's development is at a crossroad," Jack stressed.
He said the Assembly was mindful of the Finance Minister's constraints but it needed funding for capital projects such as agro processing and the further development of the Cove Eco Industrial and Business Park.