The Tobago Heritage Festival 2018 closed off yesterday (August 1) with the Emancipation Gala at Pigeon Point Heritage Park.
The event started at noon with the drum explosion, followed by a stage show, and finally, the street procession later in the evening.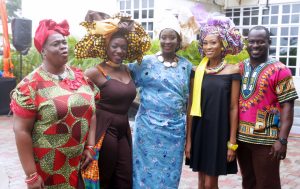 The Tobago House of Assembly also marked Emancipation Day with several activities. On Tuesday, Office of the Chief Secretary employees came decked out in the African-inspired finery to celebrate. Special awards were presented in the Best Male African Wear, Best Female African Wear and Best Female Headpiece categories.
The Division of Tourism, Culture and Transportation hosted its own celebrations. Friday (July 27) was "Bring Your Child to Work Day", where the children of employees participated in storytelling, art and craft, ole time games and other activities. And on Monday (July 30), there was a special "Heritage Brunch" and dress up day, featuring drumology and spoken word performances.
The event included a special address by Tourism Secretary Nadine Stewart-Phillips, as well as remarks from Administrator Claire Davidson-Williams.