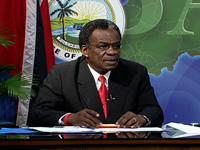 Speaking after yesterday's budget statement by Minister of Finance Winston Dookeran, Chief Secretary Orville London said that he was neither excited nor disappointed by the budgetary allocation to the Tobago House of Assembly (THA).
London noted that the THA allocation of $1,959,507,630.00 was exactly 4.03% of the national budget.  He further explained that after the Dispute Regulation Commission ruling, the Central Government was legally bound to allocate between 4.03% and 6.9% of the national budget to the Assembly and all that this Finance Minister had done, as previous Finance Ministers over the years was to provide the THA with the minimum allocation permitted by law.
London said that the Tobago public should not be confused by the claim that Tobago will receive $3.568.8 million or 5.24 percent of the budget, as this figure represents all the money to be spent in Tobago by the THA, the Ministries, and the Authorities and Commissions like WASA and T&TEC.
London revealed that the allocation to the THA was just about 60% of $3.5billion requested after the Assembly presented its budget in June; but the Assembly now had the responsibility to ensure that the resources are utilised to the optimum benefit of Tobagonians.
London said that the task of planning and prioritising begins immediately and he reiterated the commitment made in his Independence Day address, that all sectors, community groups and other organisations will be involved in the decision making process.