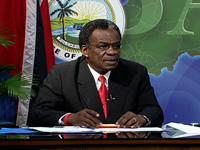 The Tobago House of Assembly (THA) has not changed its stand on not having a second Carnival in Tobago. As far as it was concerned there should be no such Carnival this year.
However, Chief Secretary Orville London said at Thursday's weekly post Executive Council media briefing that he was willing to sit down and discuss the issue with Multicultural Minister Winston 'Gypsy' Peters.
He told reporters: "The Assembly's position has not changed, in fact, based on information that we have got since then I think the Assembly is even firmer in its conviction that there should be no second Carnival in Tobago."
The issues surfaced again last week when Peters telephoned and wrote London seeking a meeting at a mutually agreed time and place to reopen discussions on the issue.
"We have a responsibility to sit and talk and the Minister has the right to bring to the table all the information that he brought before and any additional information that he wishes to bring. We will sit and talk and hopefully come to some agreement, or at least agree to disagree in way that we end the public postures," London said.
London said he considered the request to be an improvement to what had transpired of persons making statements indicating that the Chief Secretary was "talking trash". "Because of my generosity of spirit I will definitely accede to this request and meet with the Minister and have a serious discussion with him and his team on the whole issue of a second Carnival in Tobago," he said.
London said it was something to which the Assembly had given a lot of thought and "when we made the decision it was not trash talk, it was not politics, it was a decision that was based on an evaluation of all the issues".
"I think it is something that we can sit with the Minister, put our case to him again and to let him understand why we have taken that position and why that position should be respected. We will discuss this issue not as politicians and not in a trash talking environment but in an environment where two responsible individuals can meet and discuss an issue of utmost importance.
"One can hold very strong views but one must also be in a position to listen to the views of other persons and that is the mindset I am going into that meeting and I hope that is the mindset of the Minister and the people coming with him," London added.
Peters had proposed an October Carnival in Tobago last year but this did not receive the support of the THA following the submission of reports by two committees.
However, it seems as if the Central Government was determined to create confrontation since the Tobago Development Minister Vernella Alleyne-Toppin was on national television on Friday morning speaking extensively of plans for a second Carnival in Tobago this year.