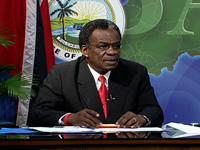 The Tobago House of Assembly (THA) will embark on a $50 million road resurfacing programme over the next four months, Chief Secretary Orville London disclosed on Wednesday. (June 29 2011)
In addition, he said, a complete rehabilitation of the seven-mile Roxborough/ Bloody Bay Road will shortly be undertaken at a cost of $11 million.
Speaking at the weekly post Executive Council media briefing London explained that the roads in the resurfacing programme will be done in-house and through contractors in each of the 12 electoral districts in the island. He said the roads will be prioritised.
He added that a contractor will be engaged in the rehabilitation of the Roxborough/Bloody Bay Road which has been deteriorating for a very long time.
London also disclosed that the THA had met its June 30 deadline to submit the documents for its $3.9 billion Budget for fiscal 2012 to the Finance Minister for inclusion in the 2012 national budget to be presented in September. He said all that remained was for discussions to take place with the Minister and his technocrats.
London who has taken over the portfolio of Health and Social Services following the resignation of Buccoo/Mt Pleasant Assemblyman Albert Pilgrim announced that he has been holding discussions with Assemblymen on the matter and the chosen Secretary will be informed by mid July to take office from August 1 2011. He said it was hoped that by that time the TRHA Board which was before Cabinet's Boards Committee should make a decision on its composition.
He also disclosed that person under 18 years and over 60 years can access free x-rays and blood tests at the Scarborough Regional Hospital from August 1 2011 once they were certified by a private or public doctor.