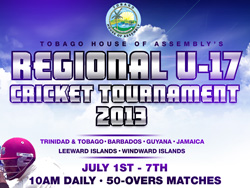 West Indies under 17 cricket has been given new life as the Tobago House of Assembly has committed to sponsor the tournament from 2013- 2016. The tournament has also been renamed for its main sponsor and is now called the Tobago House of Assembly Regional Under 17 Cricket Tournament.
This is the second year running that the tournament is being hosted in the sister isle through the West Indies Cricket Board (WICB) and the Trinidad and Tobago Cricket Board (TTCB).
The THA will spend some $600,000 for the tournament which will see six teams in the region vie for bragging rights in the 2013 event. Young cricketers from Barbados, Jamaica, Guyana, Leeward and Windward Islands and Trinidad and Tobago will be in action starting 10am at Shaw Park, Bon Accord and Louis D'or recreation grounds next Monday July 1. The 50 overs tournament runs until July 7.
Last year THA sponsored the event to the tune of $475,000.
Assistant Secretary of the Division of Education, Youth Affairs and Sport (DEYAS) Jomo Pitt, Chief Executive Officer of TTCB Suruj Ragoonath and Vice President of the Tobago Cricket Association Ignatius Trim were on hand to talk with the media on Wednesday about the future of the tournament.
"The tournament will give young cricketers the experience and exposure necessary for them to develop in their sporting discipline, develop healthy camaraderie, instil national pride and promote Tobago as a sport tourism brand," Trim pointed out.
Trim said that Tobago will continue to host the event for the next 3 years and it is a "step in the right direction for sport tourism."
Ragoonath explained that a 30 minute highlight package will be distributed across the Caribbean to promote Tobago as a viable sporting destination.
Pitt said that it was one of his dreams to see events of this nature happen in Tobago and it is part of his mandate to facilitate them.
Tournament Schedule

Date

Matches

Venue

Monday July 1st

Round 1

Trinidad & Tobago vs. Leeward Islands

Guyana vs. Windward Islands

Barbados vs. Jamaica

Shaw Park

Bon Accord

Louis D'or

Wednesday July 3rd

Round 2

Windward Islands vs. Trinidad & Tobago

Jamaica vs. Leeward Islands

Barbados vs. Guyana

Louis D'or

Bon Accord

Shaw Park

Thursday July 4th

Round 3

Trinidad & Tobago vs. Jamaica

Windward Islands vs. Barbados

Leeward Islands vs. Guyana

Bon Accord

Shaw Park

Louis D'or

Saturday July 6th

Round 4

Barbados vs. Trinidad & Tobago

Guyana vs. Jamaica

Leeward Islands vs. Windward Islands

Bon Accord

Shaw Park

Louis D'or

Sunday July 7th

Round 5

Trinidad & Tobago vs. Guyana

Barbados vs. Leeward Islands

Jamaica vs. Windward Islands

Louis D'Or

Bon Accord

Mt. Pleasant

50-overs matches. 10am Daily