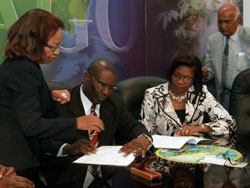 The Tobago House of Assembly (THA) and the Ministry of Housing and the Environment yesterday (Tuesday 9th August 2011) signed a Memorandum of Understanding (MOU) to allow groups and organisations in Tobago to access the Green Fund for environmental projects.
Speaking at the signing of the MOU Permanent Secretary in the Ministry of Housing and the Environment, Veronica Belgrave disclosed that the balance of the Green Fund as at June 30 2011 stood at $2.3 billion. She explained that the Fund is capitalised by a Green Fund Levy of 0.1 per cent on the gross sales or receipts of companies carrying on business in Trinidad and Tobago.
She said the purpose of the Fund is to provide financial assistance to organisations and community groups engaged in environmental activities such as remediation, reforestation and conservation. "It is the Government's intention to forge partnerships with the beneficiaries of the Fund and, together with their stakeholders, engage with and empower them to actively formulate and implement activities that will help us realise our goal for sustainable development," she added.
The THA which will coordinate and have oversight of the Fund will provide adequate office space for operations of the Fund's Executing Unit in Tobago that will receive applications for processing.
Project coordinator of the Unit stated that the THA Act and its Fifth Schedule will also allow the Assembly to apply for funding for projects like any other applicant.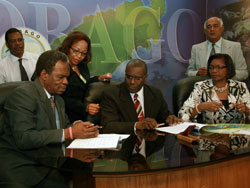 Chief Secretary Orville London in welcoming the signing of the MOU stated that it was a very important occasion for Tobago. "We are doing something which is utilising the country's resources for the benefit of the people," he said.
London said the signing was of particular significance to Tobago and believed that the Fund was created for the Assembly "as we have an opportunity to utilise a resource that was not previously available". He added: "I want to indicate to all of us that what the Assembly and the Ministry have done is not to have an excuse for us not protecting our environment."
He said the Assembly will continue to collaborate with the Ministry and lauded its efforts and those involved in the process.
The MOU was signed by THA Chief Administrator Dr Ellis Burris for the Assembly and Permanent Secretary Veronica Belgrave for the Housing and the Environment Ministry.