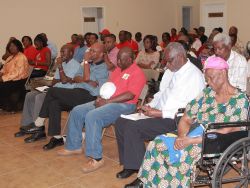 The THA 2011 Executive Council "Meet the Communities" series got off to a fruitful start for the NLCB Buccooneers Steel Orchestra of Buccoo on Thursday night when the steelband's manager Aldwin Brebnor was presented with the Deed for over 1,441.9 square metres of land it had been occupying for many years.
The THA purchased the land for $.4 million from Republic Bank and according to Chief Secretary Orville London there was a prospective new owner of the property who was unwilling to have a steel band on the land and as a result it could have faced eviction.
Brebnor received the Deed for a 30-year lease to the steel band after it was signed by Chief Secretary London and Chief Administrator Dr Ellis Burris.
The village of Buccoo was the first stop in the series titled: "REPP – reporting, evaluating, protecting and preparing". The series will continue on February 17 in the village of Delaford in east Tobago.
In addressing the over flowing audience in the new Buccoo Community Centre on School Street, London told villagers that they were the employers of members of the Assembly as a result had a responsibility to report to them.
Further, he said, the Assemblymen had a responsibility to engage and evaluate and protect what they had achieved while preparing for the future.
London said he wanted all of Tobago to know that the protection of their heritage was under threat at this time and everything they said and did they will have to protect it.
While acknowledging the recent construction and commissioning of the new $112 million Buccoo Integrated Facility, the Street Mall and other amenities in the village by the present administration, villagers questioned the lack of proper facilities for sea bathers, fishermen and visitors to the world famous Buccoo Reef.
Agriculture, Marine Resources, Marketing and the Environment Secretary Hilton Sandy disclosed that designs for a new fishing boat jetty and landing facilities for reef boats were before the Environmental Management Authority (EMA) for approval. However, he warned the fishermen and boat reef operators that the Police were patrolling the beaches at Store Bay, Pigeon Point and Buccoo to ensure that boats were licensed, insured and fitted with the necessary safety gear and if operators were found wanting they will be charged. The operators of over-loaded boats will also be prosecuted, he added.
One fisherman was also concerned that fishermen from Barbados were seen regularly in Tobago waters illegally catching flying fish. London responded that the Assembly was in discussion with the Ministry of National Security on the illegal fishing taking place.
He said if the 6-mile maritime boundary was allowed to stay in the proposed THA Act, Tobagonians would be beggars in their own land.
A livestock farmer also related that recently two pit bulls attacked his sheep herd slaughtering all 27 of them. London said this brought into question the Dangerous Dogs Act which he would raise with the National Security Ministry.