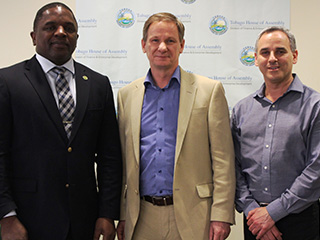 Administrators, Legal Officers, Project Managers, Engineers other key personnel employed with the Tobago House of Assembly (THA) are now trained in the development, marketing and execution of Public Private Partnership (PPP) projects. Twenty seven persons participated in a two day training session hosted by the Division of Finance and Enterprise Development and funded by the Government of Canada in preparation for the creation of a PPP Unit within the THA. The new Unit, scheduled to become operational in April, will oversee implementation of PPPs in Tobago which deliver the THA's objectives as they relate to infrastructure development.
According to the Secretary for Finance, Mr Joel Jack "This training is a follow up to a policy position outlined by the Tobago House of Assembly and is an indicator of our efforts to implement initiatives which are of value to the people of Tobago. Today's training complements the THA's exploration of opportunities for accessing capital and follows our recent endeavours to maintain a favourable international credit rating for the island." The Secretary indicated that dialogue had commenced with many partners who have indicated a willingness to collaborate with the THA on several high priority projects. These events, he stated, augured well for Tobago's development.
Ms Giselle Small, Co-ordinator of the PPP Unit, said that the participants benefitted from an intense, interactive series of activities which proved invaluable as the Assembly furthers its plans for adopting the PPP model in the upcoming months. PPPs are a critical mechanism in furthering development on the island given the limited funding provided through existing revenue streams. It is an alternative model for project financing and provides the Assembly with the flexibility to enter into contracts with private companies to provide a variety of public services.
The Assembly will benefit from this approach which allows for Build-Own-Lease-Transfer (BOLT), Build-Transfer-Operate (BTO), Build-Operate-Transfer (BOT), concession, or lease arrangements among others. PPPs will, increase the financing available to the THA, improve value for money in infrastructure projects by creating incentives for best-practice design, timely completion, and efficient operation by sharing project risk with the private sector, encourage innovation in the provision of infrastructure, improve the sustainability of infrastructure and related services and enhance accountability in public expenditure. Areas examined during training included project procurement, documentation and conceptualisation all within the context of the country's legislative requirements.