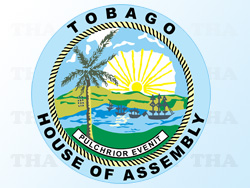 "What we recognise is that we need to have more dialogue," Secretary of Health and Social Services Assemblyman Claudia Groome-Duke told villagers attending the community meeting at Charlotteville Public Library.
Last month, the Tobago House of Assembly (THA) began holding community meetings the second Thursday of each month. The meetings are geared to understanding the needs of Tobagonians better and would allow Tobagonians to better understand the services offered by the THA.
Villagers attending the meeting came from Charlotteville, Speyside, Hermitage, King's Bay and Delaford to listen to their area representative and to question members of the Executive Council on their performance. The main topic for discussion was Tobago's healthcare system.
Asked whether the health complex at Charlotteville was meeting the needs of modern healthcare services, District Medical Officer Dr Mentor Melville said, "Right now in Charlotteville, we are trying to achieve that goal." He said within the upcoming weeks, a doctor would be available in Charlotteville on the first Wednesday of each month from 9 a.m. to 3 p.m. and on the third Wednesday in Speyside from 9 a.m. to 3 p.m.
"I think we have to get into the mood of dealing with an emergency," Sharon Benjamin said. She said patients had to wait too long after arriving at the hospital. "We have to put things in place to deal with an emergency."
Though it was suggested that a mini hospital be built in Charlotteville, Dane Allen said he thought the facility at Roxborough should be upgraded so that villagers didn't have to travel from their community to the hospital in Signal Hill. He said that though Charlotteville had an ambulance, the distance to the main hospital was a long drive for seriously ill patients in need of medical attention. "I see the facility at Roxborugh as strategically located where the Assembly can spend some money and have the necessary staff and equipment," he said.
Chief Secretary Orville London said that all comments, even those that were critical, would be considered by members of the Executive Council. "The purpose of the exercise is not only to listen to concerns and respond. It is about Tobagonians taking control of the process. We are your employees," London said. "When you're treating with your employees, you must be in a position to guide them and inform them."
London encouraged Tobagonians to participate in the community meetings taking place across the island. The next meeting will be held at the Roxborough Secondary School on Thursday, 9th May.