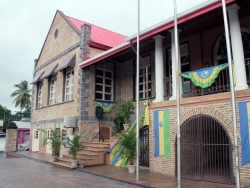 The 186-year-old Tobago House of Assembly Legislature Building on Jerningham Street in uptown Scarborough was re-commissioned on Monday night.
Providing a history of this 19th century architecture, THA Presiding Officer Ann Mitchell-Gift described the building as one of the best Georgian architecture in the West Indies. She recalled that then it provided chambers for the THA and the Tobago Legislative Council. However, with the imposition of Crown Colony Government in 1887 it accommodated a variety of public offices including the post office, court house, Inland Revenue department and the public library.
She said following the assent of the THA Act of 1980, the Chamber was re-furbished and officially opened by Queen Elizabeth II on November 2 1985 to become once more the seat of the island's governance.
This final round of restoration costing millions of dollars began in 2009 involving at least seven contractor headed by CRMS. Space allocation now includes a portrait gallery, Assembly Chamber, an office for the Presiding Officer, members' lounge, and tea room, media room, offices for the Marshall and Clerk, conference room, THA library, committee room, data centre, seminar room and store room.
In re-commissioning the building, THA Chief Secretary Orville London urged members of both sides of the Assembly to understand what their role was and that was to remember their responsibility to the people in the people's house.
He told guests gathered in the Courtyard: "You have to demand that we do the people's business in the people's house. A lot of your good money has been spent on this building and you have to ensure that those of us who live in it and work in it provide the highest quality for you. We as the persons in this chamber have to ensure that we provide an even better quality service."
He stressed: "It is not just a landmark, as far as I am concerned we have reignited a symbol and hopefully a change in our spirit that reminds us of our very proud past and of course inspire as we move forward."
London said the future of Tobago was in this building and what happened in it. He said: "On behalf of all of us who are now using the building and all of us who will use the building in the future I want us all to remember one thing, this is not just the Tobago House of Assembly, it is the Tobago House of Assembly Chamber, it is the Chamber where all of us have a responsibility to do the people's business on behalf of and in the interest of the people and as we look up at this building we must recommit ourselves to that."