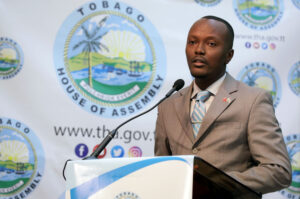 The Tobago House of Assembly (THA) has commissioned a team of seventeen (17) professionals to form the Roadmap to Recovery Working Group, effective June 1, 2020.
This group will work on identifying specific actions and policy measures that the THA can take to ensure the best chance of recovery for Tobago post COVID-19.
"One of the things we must consider going forward, as an administration and as a people, is how do we position this island, and by extension this country, to recover quickly, especially from the economic impact [of COVID-19]," Chief Secretary Hon. Ancil Dennis further stated, "especially from the devastation of our Tourism sector, where at this time our borders are closed."
Chief Secretary Dennis was speaking at a virtual post Executive Council media briefing on June 3rd. He indicated the group will serve for a period of up to six months and a first draft of recommendations is to be submitted within two (2) months of service.
"How do we make the best decisions going forward?" he asked. "As Chief Secretary, I considered the appointment of a working group that will be tasked with doing some research, evaluating existing documents and reports, and taking a critical look at our situation," he said. The group will advise the Chief Secretary and by extension, the THA administration, as they make critical decisions following the COVID-19 pandemic.
Chief Secretary Dennis indicated that the working group's recommendations will cover areas of:  Finance and the Economy; Tourism; Agriculture & Food Production; Creative Industry; Productivity, Governance and Human Resource Development; Sustainability and Innovation; and Social Development. The team includes the following Tobagonians from seven sectors:
Finance and the Economy:
-Dr. Selvon Hazel, Chief Economist in the Division of Finance and the Economy
-Ms. Knafesa George, Policy Analyst in the Division of Finance and the Economy
Tourism:
-Ms. Shirley Cooke, Entrepreneur
-Mrs. Korice Nancis, International and Tourism Development Strategist
Agriculture & Food Production:
-Mrs. Pathleen Titus, Technical Advisor – Division of Food Production, Forestry & Fisheries
-Mr. Dedan Daniel, President of the Tobago Agricultural Society
-Mr. Ricardo Alfred, Farmer
Productivity, Governance and Human Resource Development:
-Dr. Verleen Bobb-Lewis, Technical Advisor at the Division of Education, Innovation and Energy
-Godwyn Richardson, Former TRHA CEO
-Dr. Stephen Sheppard, Chairman of the working group and CEO of the Tobago Hospitality &Tourism Institute (THTI)
Sustainability and Innovation:
-Dr. Ryan Allard, Vice Chairman of the working group
-Ms. Melanie Trim, Manager of the Energy Affairs Unit
-Mr. Hassel Bacchus, Chief Technical Officer at Telecommunications Services of Trinidad & Tobago Limited (TSTT)
Creative Industry:
-Mr. John Arnold, Events Coordinator
-Mr. Khalen 'Jamoi 'Alexander, Musician
Social Development:
-Dr. Crystal Benjamin, Life Coach and Couples Therapist
-Dr. Alina Williams, Clinical Psychologist at the Scarborough General Hospital
As part of its overall mandate, the committee's responsibilities include but are not limited to: reviewing the current social and economic interventions to ensure they are effectively meeting the targeted recipients; assessing the current operations and institutional framework of the Assembly; identifying the range of new economic opportunities for each sector with emphasis on tourism, agriculture/food security, creative industry, and construction; examining the Tobago environment and devising detailed recommendations for improving the ease of doing business on the island; assessing the current capacity of the island, as it relates to food production and developing a strategy for improving food security, as well as expanding linkages with the tourism and hospitality sectors and enhancing its national and/or regional trade competitiveness; and determining the necessary strategic digital infrastructure investment required to support a technology-enabled society and economy.