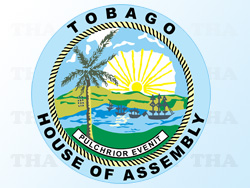 Four units of the Tobago House of Assembly (THA) yesterday (Monday 21st February 2011) teamed up with the Coast Guard and the Harbour Master's office to provide assistance to three 20-year-old Norwegian youths whose 45-foot yacht ran aground off Fort Milford, in southwest Tobago in the early hours of the morning.
The 60-ton yacht "Firstprice" broke its moorings off Store Bay around 4 a.m. and drifted with the sea current some 500 feet ending on some rocks. On board were Captain Jakøb Halvørsen and crew member Sigurd Berger Lindstøl, as well as his cousin Erik William Lindstøl.
Halvørsen said when he discovered the yacht drifting they tried to start the engine but it was too late as the current kept pushing it towards the rocks. He suffered scratches while Sigurd received a cut below his left knee. Halvørsen made a distress call to the Coast Guard whose officer summoned the Emergency Ambulance Service to pick up the injured. Sigurd was taken to the Scarborough Regional Hospital for treatment.
Tourism Division Product Development and Destination Manager Sherma McDougall-Williams was at the institution assisting in ensuring he was comfortable. She also arranged for TSTT to provide a cellular phone which was topped up by the Division and dry clothing. Norwegian Honourary Consul Stewart Jardine was informed of the incident since the travel documents of all three were water soaked and needed replaced for them to be flown home.
A Coast Guard team led by Officer Julien assisted in retrieving some of their water soaked items from the wreck, while TEMA Assistant Director Allan Stewart coordinated the rescue effort.
The crew left the Norway fishing port of Risør earlier this year on a Caribbean cruise. The yacht was taken to Trinidad for repairs and arrived at Store Bay over the weekend. It was due to go to Scarborough on the day of the incident to register Erik as a crew member before leaving for Charlotteville, Castara, St George's and the Dominican Republic then home.
Halvørsen was high in praise for the assistance given to them by the THA Tourism Division, TEMA and the Coast Guard, as well as the ambulance and hospital staff that attended to Sigurd.
The "Firstprice" had a gaping 12-foot hole along its bottom, while its rudder was completely broken off.