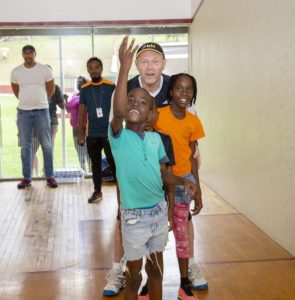 The sport of squash can be a pathway to a world of opportunity for young people in Tobago.
That's the view of Canada-based squash coach Keith Griffiths, who recently conducted a session to introduce Black Rock Government Primary School students to the sport.
Griffiths was actually on holiday in Tobago, and said after noticing that the squash court at their resort wasn't in use, he ended up with a "working vacation".
"I'd love to get some kind of plan or programme started," Griffiths said, "where the children can learn hand-eye coordination and physical literacy, so they can use these squash courts to one day have the chance to get a scholarship. There are a lot of opportunities out there."
The initiative was facilitated by the Squash Association of Trinidad and Tobago, with technical support from the Division of Sport and Youth Affairs.