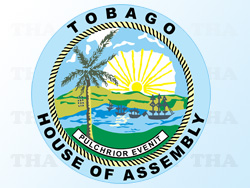 The walkover at Spring Garden along the Claude Noel Highway has been successfully refurbished.
On Saturday June 1st, employees of the Division of Infrastructure and Public Utilities stripped off the chipped concrete from the underside of the walkover's steel reinforcements then applied a rough sealant and re-plastered with concrete. Power washing of the entire structure will be done at another time.
The exercise began at 9:00 a.m. and ended at 4:00 p.m. Traffic heading east into Scarborough was diverted through Spring Garden onto Plymouth Road and also onto Mt. Marie Road, while the west-bound traffic flow was not interrupted.
Engineers at the DIPU will soon schedule an inspection of the Darrel Spring walkover, which was also erected 30 years ago.
The Spring Garden walkover was erected in December 1982 and recently started showing signs of "spalling" on the underside. This is where the steel reinforcement under the concrete starts rusting and expanding, thus pushing off the concrete that's encasing it.
The Division of Infrastructure & Public Utilities is once again assuring the public that the walkover at Spring Garden is structurally sound.