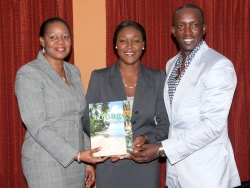 The Division of Tourism and Transportation announced the return of Manchester United alum, Dwight Yorke, as Tobago's global brand ambassador at a signing ceremony held at the Division's head office on Friday, June 28.
The Tobagonian striker has served as the destination's brand ambassador for four years. The son-of-the-soil has previously represented the Division at various trade shows and conventions, including the World Travel Market in the London and the Internationale Tourismus Börse in Berlin. He has also participated in the European-based Got to Go Tobago Road Show series, a promotion campaign that took teams of Division officials, stakeholders and entertainers to the UK and Scandinavian region to directly engage consumer, tour operators and other members of the travel trade.
However, this new contract will see him play a bigger, much more specific, role in the destination's international awareness campaign.
Yorke's extended portfolio will focus on raising the island's profile as a sports tourism destination, particularly in the areas of golf and football. His primary function will be to identify and pursue opportunities that will benefit the destination, including opportunities for Tobago to host golf clinics and football training camps for student athletes.
Yorke, who also recently renewed his contract with European sports channel, Sky TV, is eager to utilize his years of experience in the international sports industry to develop Tobago's profile as a sports tourism destination.
"It's a great honour for me to serve as an ambassador for sport," he said. He promised to do his best on behalf of Tobago and work very closely with the Tobago House of Assembly to develop the destination's sports tourism niche.
Deputy Chief Secretary and Secretary of Tourism and Transportation, Assemblyman Tracy Davidson-Celestine, identified Yorke as a key element in the Division's destination awareness campaign during her presentation for the Tobago House of Assembly 2013-2014 budget debate last Thursday. She took the opportunity to elaborate on the details of his role at the signing ceremony.
"Dwight Yorke still has an excellent reputation in the sporting arena," she said. "Through this arrangement we will be engaging him as our brand ambassador to specifically target universities and golf clinics with the aim of having them utilize our facilities here."
In underscoring the importance of sports tourism to the island she highlighted the fact that Tobago currently has excellent facilities for hosting a variety of sporting events, including well-maintained playing fields in almost every community, the Dwight Yorke Stadium, and two 18-hole golf courses.
Davidson-Celestine indicated that the thrust to develop sports tourism would be pursued in collaboration with the Division of Education, Youth Affairs and Sport. She anticipated great success from this venture, stating that, "We expect that over the next two or three years we will see an increase in those persons who are involved in golf and in football and of course an overall increase in the number of visitors to our shores."