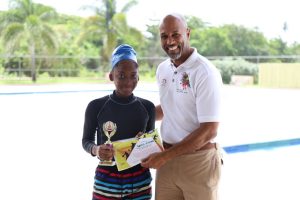 The 2018 THA Tobago Sport Camp saw 500 children ages seven to 15 get healthy physical activity, learn more about sport and even learn key life skills.
It's also unearthed a fresh batch of raw talent in an unusual place—the archery range. Archery was introduced to the camp this year, and archery facilitator Patrick Welch said he's pleased at the outcome.
"Students are excited, the reception is good," Welch said during the camp. "We hope to have some of our youth compete on a national level in this sport. We have observed that quite a few of students with additional training have the potential to make a national level."
The students were also exposed to football, cricket, netball, basketball, volleyball, beach football, athletics, tennis, and swimming, and they got to experience various sports.
The THA Tobago Sport Camp was run by the Division of Sport and Youth Affairs.