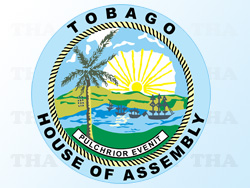 The start-up of patient services at the new Scarborough General Hospital at Signal Hill will begin on March 22, two weeks before the official opening of the institution on Holy Thursday, April 5.
In disclosing this at the weekly post Executive Council meeting briefing THA Health and Social Services Secretary Assemblyman Claudia Groome-Duke said the services to be offered in this first phase will include the CT Scan and the expansion of the Cancer Screening Programme with the start-up of the Mammography service.
She explained that security was of utmost importance in order to offer a safe service to patients in this first phase and as a result readiness of areas can only accommodate, security, environmental, building maintenance systems and the quality department, which will play an integral role in assuring that the services will be started and delivered according to standards of care. She added that a system of floating staff that were deemed to be critical was being worked out.
Groome-Duke also reported that Health Minister Dr Fuad Khan had agreed to the launch of the E-card (electronic medical record card) in Tobago and preparation for this activity started on Tuesday (March 6 2012) when the Ministry's IT team made a presentation to the Division of Health and proceeded to begin work with the TRHA staff. She said this would improve the process for the storage of basic patient information but cautioned that it would not meet the requirements of the comprehensive medical record system which the Ministry was providing for use throughout the country.
She said her Division will continue to inform and sensitise the Tobago public on the status of the new hospital and the wide range of services that will be available when it became fully operational. Among the services will be the Intensive Care Unit (ICU), CT scan, Cardiology, expansion of the surgical unit to four operating theatres with a same day surgery centre, Central Sterile Services Department. However, she reiterated that it was only after being given the assurance by the clinical and technical staff about safety and quality in relocating the service that start-up of any service will occur.
The Health Secretary gave the assurance that the Tobago health sector had been preparing for the change over an extended period, adding that locals have been trained for the Biomedical engineering Department, nurses for the ICU, doctors and nurse for Cardiology among the areas. She said an aggressive recruitment drive had also been conducted over the past two years and young Tobago professionals who benefitted from the Assembly's Financial Assistance Programme were now qualified and ready for the job market.