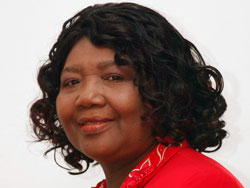 THA Secretary of Education, Youth Affairs and Sport Claudia Groome-Duke is confident that the education scenario in Tobago has changed and continues to change.
In a review of the activities of the Division for the past year during the 2012 Budget debate, Groome-Duke said the statistics and results were proof of this. Adding that the Administration had made education a top priority she said the budgetary proposal of $421.3 million will be a fillip to the momentum the Division already experiences.
With revelation day for Secondary Entrance Assessment (SEA) examination pupils just days away, Groome-Duke boasted that expectations were high. She asserted that the pupils were expected to make both Tobagonians and Trinidadians proud. In January the Division introduced the Student and Teacher Support (SaTS) Programme which specifically targeted SEA pupils, particularly those needing special assistance. It provided mentoring and support to teachers and pupils of Standard Five.
Continuing her boasting, Groome-Duke said the Division was doing all in its power to ensure that pupils were provided with the right environment and tools for learning. For the past year alone repair and upgrade were done to 31 primary schools and six secondary schools. Adding with much passion that no child's path in life should be determined by the circumstances of birth but rather by talent and effort, she noted other provisions including breakfast and lunches for the pupils.
In response to THA Minority Leader Ashworth Jack's accusation that with the absence of the new Scarborough Library no provision was made for students to study in preparation for examinations, Groome- Duke told the House "every single school has a library." Furthermore for the period January 2010 to May 2011 "in the Charlotteville Branch Library we have in circulation, 1,795 adults, 1,448 young juveniles. In the Roxborough Branch Library we have 2,122 adults and 1593 juveniles". She said in the Scarborough Regional Library housed at Signal Hill there were 8,337 adults and 5,592 juveniles utilising its services, with 8,752 computer and internet users among three libraries. The book stock of over 108,643 was increased by over 3,463 books recently. She said all steps were being taken to ensure that the new Scarborough Library would provide state of the art technology to meet every household.
Groome-Duke said quality education was further revealed in the results of students' external exams. She said for the Caribbean Advanced Proficiency Examination (CAPE) Bishop's High School had a 98 per cent success rate; Signal Hill – 85 per cent, Scarborough Secondary – 63 per cent and UWI 6th Form -60 per cent. She said Rebekah Villain of Bishop's High School copped a national scholarship and Dashelle Morrison received the President's medal for placing first overall in the National Certificate for Secondary Education exams.
"We have data to show that we have touched the lives of over 20 thousand young people in Tobago with our HIV/AIDS outreach programmes, our programmes of youth voice, building electrical courses with the YTEPP Programme and CSEC classes for out of school youth…., she added."
Dedicating her presentation to Tobago's 1177 plus teachers who were at the annual Trinidad and Tobago Unified Teachers Association (TTUTA) Teacher's Get Together, Groome-Duke noted that they gave yeoman service to Tobago. She added that the Division has played a key role in providing training and professional development initiatives for teachers and curriculum intervention activities to improve the curriculum delivery and the quality of instruction. She said over 600 teachers have been trained in ICT and e-connect and Intel Teach Programmes, among others.
At present there are12, 582 pupils in the early childhood centres and primary, secondary and special needs schools on the island while there were also 2,470 persons accessing tertiary education.