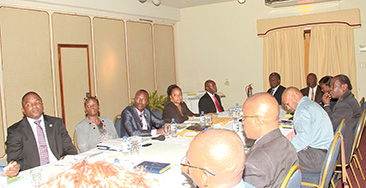 The 15 Secretaries and Assistant Secretaries of the Tobago House of Assembly as well as the Administrators of the Divisions attended and all-day orientation session at the Mount Irvine Bay Hotel, Tobago on Monday.
According to Chief Secretary Orville London the objective of the session was to establish an environment for the optimal operational synergy between the policy-makers and managers of the Assembly and to enable them to work together more harmoniously and effectively.
The session which was facilitated by retired chief administrator Allan Richards included reports on the role and function of each Division by the respective Administrator. London also dealt with the goals of the THA for the next four years and the imperative for the machinery headed by the Secretaries and Administrators to accomplish these goals and consequently the need to function as a cohesive unit.
Following the session London reported that there was healthy discussion and the feedback from the Secretaries, Assistant Secretaries and Administrators was that it was a productive exercise. He added that areas of concern were also addressed and those present felt more confident in going into their Division during this week.
London said following the mandate given by the people in the recent election, expectation would remain high among the electorate and therefore Secretaries and Assistant Secretaries as well as all employees of the Assembly will have to be prepared to make an even greater effort during this present term.
A more comprehensive session will be held at the same venue on February 14 and 15 2013.