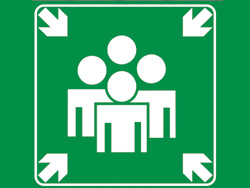 The Tobago Emergency Management Agency (TEMA) has moved ahead of the authorities in Trinidad to develop a Scarborough Evacuation Plan to be used in the event of any emergency and will be piloted through Carnival days. It is the first such official Plan for any part of the country and can be adapted for any part of the island of Tobago.
TEMA Director Owen Sandy explained that the Plan was an annex of the Tobago Carnival Operations Command Post's Emergency Plan but outside of Carnival it will be activated whenever an eminent threat was present and the mandatory evacuation of Scarborough was imperative. The Carnival Operations Command Post will be set up from March 5 (Carnival Saturday) in the FCB Car Park. Present will be medical staff and members of the security forces.
He said the Plan was to basically evacuate Scarborough in an orderly manner on foot to one of the muster points, leaving all vehicles parked and secured. Persons with special needs within Scarborough will be evacuated by the Fire Service and supported by the PTSC disability buses while persons on the Port will be evacuated by the Coast Guard which will also provide additional security there.
The muster points are located at Orange Hill Road, Shaw Park; Bishop's High School, Mt Marie; Morrison Tyre Shop, Wilson Road; Botanic Garden, Claude Noel Highway; Keith Louis Garage, Northside Road; and the Old Market Car Park.
TEMA will be responsible for issuing the mandatory evacuation order while the Fire Service will use its siren to provide an alert to the Scarborough Police and other interests to trigger the evacuation plan.
The Police Service will be responsible for law and order, static patrols at all junctions identified in the plan, managing the evacuation routes of Scarborough based on hazard and directing evacuees to one of the six muster points. The Police will also ensure that evacuation routes remain clear of vehicular traffic and use sirens and mobile PA systems to alert and provide evacuation instructions.
The evacuation routes are Bacolet/Main Street, Milford Road/Mt Marie Junction/Smithfield/Milford Road Junction, Crusoe By-Pass/Orange Hill Road, Wilson Road/Claude Noel Junction and Northside Road/Bay Street Junction.
The Regiment will be responsible for providing security against lawlessness such as looting and perimeter control.
TEMA has organised a massive education programme to sensitise the population of the plan.