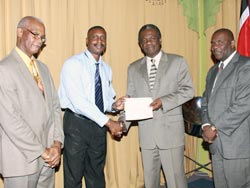 The Rotary Club of Southwest Tobago on Monday (9th May2011) received a cheque for $15,000 from the Tobago House of Assembly (THA) to assist in off setting the cost of the visit of a team of ten chiropractors who spent a week in March providing free assistance to thousands of Tobagonians.
In presenting the cheque to Rotary president Joseph Morrison at his Calder Hall Office THA Chief Secretary Orville London said the Assembly was more than happy to have fulfilled a commitment to the Club to provide the financial assistance. "I think it is something with which we want to be associated and has been associated from its inception four years ago. I think it is a good investment and I wish to take the opportunity to commend the Rotary Club of Southwest Tobago for all it has done over the years in trying to assist in the development of Tobago and trying to assist the young people with their Interact and Rotarac clubs and also helping the disadvantaged."
London said this year the club will be focussing on diabetes and that was something with which the Assembly would want to continue to be associated as this was one of the major challenges facing Tobagonians as they strived for a greater degree of wellness. He added that he hoped the club would be able to assist the Assembly in the prevention and control aspects, rather than just the treatment.
Morrison said his club was very appreciative of the assistance and thanked London and Chief Administrator Dr Ellis Burris for making it a reality.
Past president Howard Webb disclosed that 6111 Tobagonians were attended to during the one-week period, as well as a number of others in visits to offices and homes. He said a similar team will be here again in the first quarter of next year.