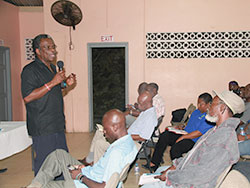 The THA Executive Council Reporting to the Districts 2012 series came to an end on Tuesday night in the Providence/Moriah/Mason Hall District in northeast Tobago that is represented by Minority Leader Ashworth Jack.
The meeting was held at the Moriah Community Centre in the heartland of the district and attended by almost 100 constituents including then opposition UNC senator Winston John.
Chief Secretary Orville London who attended all of the 12 meetings delivered reports on some of the activities of the Council including programmes for the young and not so young residents of Tobago and efforts by the Assembly to have the two THA Bills on self government released by the Central Government as a Green Paper for public discussion. Secretaries and assistant secretaries on the other hand dealt with specific events within their portfolio.
In winding up the series, London said he was heartened by the attendance at the meetings and the level of participation of the people, adding that this showed their interest in the future of Tobago. "Our meetings were arduous but very productive," he said.
London said the delivery of his administration had nothing to do with who supported it and gave an example of the building of a modern health centre and the digging of a hole in the ground to construct a modern stadium in Moriah. He stressed that the meetings were not to talk about politics because that time will come soon but for secretaries to report to the public on their portfolio and for the public to voice their concerns and make their requests.
"Plenty thing is happening in Tobago, there are plenty of opportunities available to you and if Tobago do not take advantage of them others will do it for you. We have come far and we are far and if we don't protect it we will lose it," he said.
London said the THA had never asked that the two Bill on Self Government for Tobago be accepted wholesale. "What we asked and will continue to ask for is for the Bills to be put in the public domain for discussion. I told both the Prime Minister and the Attorney General this so it would be wrong to say that we were asking for it to be sent to parliament without further discussion by the people of Trinidad and of Tobago," he said.