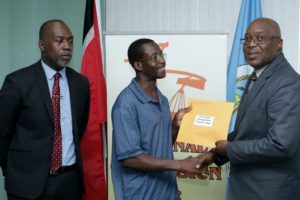 A cheque distribution ceremony was held on Thursday, 25th July, 2019 for grant recipients following fire disasters to their homes. The event was held at the Division of Education, Innovation, and Energy.
Grants were distributed to three families and this was made possible by the National Commission for Self-Help Limited (NCSHL).
"Today, the National Commission for Self-Help continues its mandate in assisting the most vulnerable in our society," NCSHL Senior Project Officer Julian Celestine said. "We need to be more vigilant in how we store our flammables," he added.
THA Chief Secretary Hon. Kelvin Charles said: "I want to thank the Commission for the speed with which they dealt with the matter and brought relief."
"Over the period January to July, a total of 41 persons would have been assisted by the Commission. The total amount expended, to date, is $769,200.99," Charles said. He indicated that the Commission has been "doing more with less", as with other state entities.
The recipients of the grants were Peter Gregoire of Plymouth Road, Victoria Archer of Black Rock, and Selby Sargeant of Arnos Vale, Plymouth. Archer received the Minor Repair Reconstruction Grant, while Gregoire and Sargeant received the Emergency Assistance Relief Grant.
NCSHL Director Dianne Ruthlyn-Antoine stated that the organization provided grants up to $15,000 to help "get them back on their feet as quickly as possible." She said persons seeking grants must "show need, demonstrate that your income is at a certain level, and you can provide the labour for minor repairs."
During the distribution, Gregoire expressed his thanks. "I am very proud, happy, and comforted to know that the state has such a facility in times of need," he said.