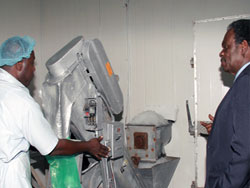 THA Chief Secretary Orville London says the Tobago House of Assembly (THA) is committed to taking Tobago into the 21st century and all Tobagonians must be prepared to participate in that journey.
He added: "In order to do that we have got to ensure that we go there with some of the old attitudes that our fore-parents would have passed on to us. I am saying therefore let us deal with transforming the environment; you have to deal with the attitude and with the optimum benefit that will be derived from that environment."
London was speaking at the re-commissioning of the Tobago Cold Storage and Warehouse Facility (TCOSWAF) at Shaw Park on Friday. The facility was purchased from NIPDEC in 2004 and was refurbished at a cost of $2.5 million. The job included the replacement and relocation of the cold storage equipment, installation of a chill room, repair and upgrade to the internal emergency and external lighting of the facility to meet OSHA requirements and staff training by CARIRI.
The facility has a total storage capacity of .5 million pounds of which over 265,000 kg is dedicated to cold storage of meat and close to 150,000 pounds to fish. The new chill room can store over 65,000 kg of vegetables.
The Tobago Chief Secretary stressed that the Assembly was providing high quality service at reasonable prices and urged the entrepreneurs, fisherfolk, meat suppliers and other business people who use the facility not to hold on to their increased savings but to pass on some of it to consumers. He said it would be unacceptable for them to hold on to their savings and therefore the Assembly will have to monitor the entire process so as to "ensure when we invest Tobago's people money it would benefit Tobagonians and not just benefit a few".
He stressed: "I am sending out a challenge, we are going to monitor the process so as to ensure that the benefits here are going to be passed on the consumer; that people are not going to use this investment simply to boost on their profits at the expense of the Tobagonian."
London described the day as a very important one in Tobago because it signaled a commitment to a process and a mantra which his administration started way back in 2001. He recalled that in his very first budget speech the theme was "Developing Tobagonians in a Developing Tobago" and that had remained its objective and major challenge over the past decade.
He said two things had to be done simultaneously to achieve this. "We have got to prepare the space and we have got to prepare the people to occupy and to derive optimum benefit from that space; and you know sometimes in preparing you have to protect because sometimes people need time in order to maximize the use of the space because you must remember the space that you are in fact preparing is a space others will want to occupy and in fact others have a greater potential to occupy."
London said NIPDEC in 2004 was motivated by profit and not people development and therefore its position was that the cold storage was not making money so it decided to stop focusing on cold storage and focus on the dry store because there was less complications, less investment, less headache and more money. "We in the Tobago House of Assembly said no way. We are not going to allow this opportunity to develop Tobagonians to pass by, we are not going to put profit before development and that is when we took the decision that the Tobago House of Assembly has the responsibility to utilize the resources of Tobago in the development of Tobago and the decision was taken to purchase."
London said the workers and the management have to understand that they were going to be under scrutiny. "Their attitude has to be revisited, it may be good, I do not know, and therefore people have to look at how they are empathizing with the customer; too many times we have a situation where the Tobago House of Assembly invests a significant amount of resources into a particular process and the people who interface with the public, the face of the face of the establishment is not a face that sends the right signals.
"In an establishment like this we have to check for attitude. All of us have got to understand that we cannot be investing $2.5 million in a quality facility and do not have quality relationship with our customers and I am saying therefore there is need for all of us to do some serious re-evaluation, some serious introspection and ask ourselves if our attitude, the level of empathy that we have is in keeping with these surroundings."
London said there was need to have a more professional relationship with the management of the environment and challenged the workers to let the world know that this investment was worthwhile and that "we in Tobago can in fact operate as effectively and efficiently as any other entity. I want all of us to bear in mind that what we are doing here is all part of a decade long process of developing Tobagonians in a developing Tobago."
He said the Board and its workers have got to prove Tobago right and they have to prove the investment of the resources was worthwhile.
Secretary of Finance and Enterprise Development Dr Anselm London stressed that the development was part of the Assembly's thrust toward food security, economic resiliency and global competitiveness. The equipment, he noted, is of world class standard and will support the diversification of the company's strategic operations.