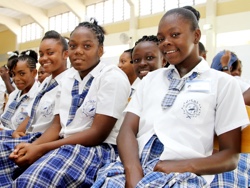 Prevention of irresponsible sexual behaviour by teenage girls is being tackled by the Division of Health and Social Services' (DHSS) Programme for Adolescent Mothers (PAM).
Under DHSS, PAM has begun a series of Sex Education Workshops among first to third form female students to help educate and influence positive sexual conduct.
Workshops are being conducted in nine Tobago secondary schools and was held at the Goodwood High School on Wednesday (29 October). The workshops' objective is to educate teen girls on pregnancy prevention methods, including relevant topics such as sexual conduct and HIV/AIDS.
PAM was founded in 2004. The developmental programme provides teen mothers who have dropped out of secondary school with educational and developmental resources to help them either return to school or enter the workforce. The workshops, which begun October 15th and will conclude on November 19th, are facilitated by the Office of the County Medical Officer of Health. Sessions are being conducted on Wednesdays from 9:30 am to 12 pm.
Workshops continue at Signal Hill Comprehensive on 5th November, Roxborough Secondary Secondary- 12th November, and Mason Hall Secondary School-19th November.