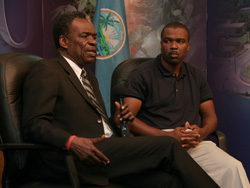 THA Chief Secretary Orville London is adamant that Tobago remains part of the Trinidad and Tobago family.
"Have no fear we're not going to breakaway. I think we want to stay in the family," he told Trinidad and Tobago and regional Officer Cadets at the weekend.
However, London added: "We want to have even more independence in managing our affairs and controlling our own destiny."
London said there was a consensus in Tobago and agreement hopefully within the rest of the country that there is need for Tobago to have even more autonomy than it has at this point in time and to move to a position of internal self government which of course is a phase that can mean anything.
He added: "What we are really trying to do is to have a situation where Tobago will be able to make its own laws, where it will have control over both its maritime waters and its land-based assets and be in a better position to manage its finances, to raise its own taxes, to get involved in loans from foreign entities and so on."
"In other words," London said, "it's almost as growing up as you get older you take up more and more responsibilities and even if you remain past of the family you still want to strive for more and more independence."
He said basically the relationship between the Assembly and the Central Government was one that required collaboration and a certain degree of understanding and a certain degree of respect.
The Officer Cadets who are from Antigua, Barbados, Belize and Trinidad and Tobago were on a three-day visit to Tobago at the end of a one-year training programme of the Trinidad and Tobago Regiment.
In response to a question on whether Tobago can survive on its own, London told the Cadets that this hinged on the question of what was Tobago and in their studies they would have been doing some international law. "When you look at the International Law of the Sea you will recognise that you use the median line to determine the boundaries between two landmasses, and even though Tobago's landmass is relatively small in comparison to Trinidad, one of the intriguing aspect about international law when applied to the Tobago-Trinidad situation is that if we use its tenets when you add Tobago's landmass to what will then be it's maritime resources, Tobago will be bigger than Trinidad. Not only will it be bigger than Trinidad but it will have access to resources that will be equal to the resource available in Trinidad."
He said a lot of the mineral wealth was being exploited and if one were to use the international measuring stick or whatever for demarcating, a lot of it will in fact be in "Tobago's territorial waters".
London said even under the present THA Act the taxes gained from any company operating in Tobago territory or what was designated as Tobago waters should go to the Assembly, it will all depend on how you determine what Tobago was.
The Chief Secretary drew laughter when he said, "if Tobago is determined using the territorial demarcation as by international law, I think we might be able to lend Trinidad a little money."