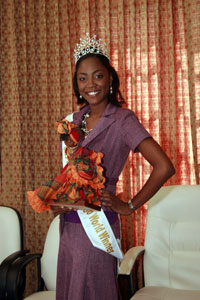 Today, reigning Miss T&T World, Miss Davia Chambers accompanied by her team, paid a courtesy visit to Chief Secretary Orville London, at the Calder Hall Administrative Complex.
Chief Secretary London commended Miss Chambers on victory at the Miss T&T World Pageant – a victory of which all Tobagonians are proud. He said that her unique blend of beauty, intelligence, sense of responsibility and commitment makes her not simply a "beautiful example but more so an exemplar for all young Tobagonians". The Chief Secretary further said that he hopes Miss Chambers' life long responsibility of being a Miss T&T World will inspire her to greater achievements. He moreover, wished her great success at the international pageant scheduled for November 6.
Mr London also extended condolences to Miss Chambers on the recent death of her grandparents.
The beauty queen radiantly expressed her gratitude to the organisers of the local leg of the Miss World Pageant, the Tobago House of Assembly and all of Trinidad and Tobago for their tremendous support.  She said: "I ensure you that I will do my best at the Miss World Pageant in Sanya, China and I look forward to your continued support."  
Miss Chambers hopes to later continue her studies in Media and Communications and have her own Fashion Magazine.