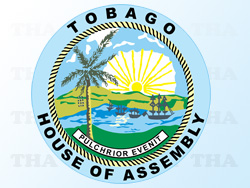 Chief Secretary Orville London said one of the major issues he will discuss with new Minister of Sport Brent Sancho is the current status of the multi-million dollar Dwight Yorke Stadium in Bacolet.
The Sport Minister will pay a courtesy call London tomorrow (March 13 2015) at the Administrative Complex, Calder Hall, Tobago, and the Chief Secretary wants to get an update on the Bacolet venue, which has not been used by athletes in three years.
The stadium was partially closed in November 2012 for the Mondo track to be replaced. It was totally shut down two years later in October 2014 by the Occupational Safety and Health Authority (OSHA) for repairs to the playing field and structural damage to the main stand.
The Tobago House of Assembly (THA) provided more than $14 million for the track to be replaced, while the Sport Company of Trinidad and Tobago (SPORTT) was committed to evaluating what repairs are required to make Dwight Yorke Stadium OSHA-compliant.
At a meeting on December 31, 2014, OSHA indicated that once the plumbing, electrical and air condition works were successfully completed, it would give approval to use the track and the wider sporting areas.
London said at the media briefing that to date, the Assembly has not received any updates from the Sports Company or the Ministry of Sport about the stadium.
The meeting will also be attended by Education, Youth Affairs and Sport Secretary, Huey Cadette and Assistant Secretary Jomo Pitt. The parties will discuss several other matters, including the role of SPORTT in Tobago and the expenses incurred by athletes on national duty.