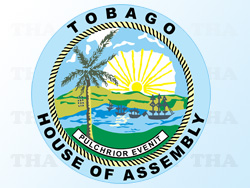 Pensioners, the physically challenged, the sick, persons in abusive relationships and those who are without caregivers are to benefit from a new Medic-alert system to be introduced by the Tobago House of Assembly (THA) from August.
Secretary of Finance and Enterprise Development Dr Anselm London disclosed this on Monday night to a packed Bon Accord Community Centre during the THA Executive Council's "Reporting to the Districts" stop in the Canaan/Bon Accord constituency.
Dr London explained that these people will be provided with bracelets which they will have to wear and should an emergency arise they will have to trigger a button on the unit to alert the Tobago Emergency Centre at Signal Hill by automatically dialling the numbers 222. He said depending on the emergency the centre in turn will summon the police, fire or medical services to provide assistance to the caller.
The Finance Secretary said the system was widely used in the United States and the bracelets were being imported directly from a manufacturer there.
Dr London also disclosed that the 211 Centre had received over 80,000 persons for information and emergencies since its creation four years ago.
In reporting to the constituents Chief Secretary Orville London took Works Minister Jack Warner to task for promising Tobagonians to fix their roads. London drew loud laughter and applause when he said there were hundreds of people protesting the bad condition of their roads and burning tyres in Trinidad because Warner was not fixing them yet he was anxious to fix Tobago roads which were the best in the nation.
"We have done well for ourselves; the THA Act recognises that Tobago must take care of Tobagonians," he said.
The Tobago Chief Secretary said the Shaw Park Cultural Complex which was being criticised for the delay in completion will be equipped with the most modern facilities and will be the only one of its kind in the Eastern Caribbean; it will also have a capacity for 5,000 and provide for culture and indoor sporting activities. "There is nothing like it in the Eastern Caribbean; we do not have a cowshed mentality and we do not deal with cowshed people," he asserted.
Secretary of Agriculture, Marine Resources, Marketing and the Environment Councillor Gary Melville disclosed that from next week every registered fisherman operating in Tobago will be provided with a wireless radio and with GPS units by the end of July.