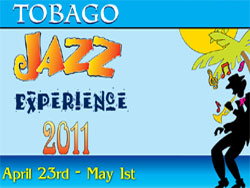 The Division of Tourism and Transportation will host a media launch of the Tobago Jazz Experience 2011 on Monday 28th February at 9 am in the rotunda of the Scarborough Esplanade, Scarborough, Tobago.
The Tobago Jazz Experience would take place at various venues around the Island over a nine day period starting with the Jazz in the East on Saturday 23rd April and culminating with the Beach Jazz Festival on Sunday 1st May, 2011.
The festival would feature headliners Randy Crawford, Joe Sample, and Trey Songz.
Assemblyman Oswald Williams, Secretary of Tourism and Transportation is carded to address the media and launch the festival at this media event.
The TOBAGO JAZZ EXPERIENCE 2011 is a collaborative effort of both government and industry stakeholder interests. For additional information on TOBAGO JAZZ EXPERIENCE 2011, visit us online at www.visittobago.gov.tt or email at contact@visittobago.gov.tt.