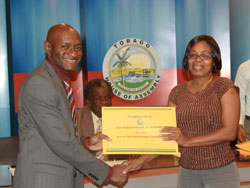 The Tobago House of Assembly (THA) on Monday continued its programme of squatter regularisation with the distribution of leases to nine of 44 families of Lammy Lands, Argyle.
Of the remaining 35 families 20 are with the Assembly's legal department for processing while the remaining parcels are still to be surveyed.
Chief Secretary Orville London who assisted in the distribution of the leases at the Calder Hall Administrative Complex said all 44 families will receive their leases by the end of the second quarter this year.
The families have been squatting at Lammy Lands for between five and 20 years. The parcels range from 500 square meters to 1,700 square meters.
London recalled that when he took over as Chief Secretary 13 years ago he had pledged that he would make life comfortable for Tobagonians and said this was one phase in the process of dignifying Tobagonians. "Wherever it is we will regularise squatters but it is a very challenging process," he said.
He said told the recipients that they have been provided with an opportunity and advised them that the Assembly did not invest the money of the people of Tobago for them to do "stupidness" with it.
Assistant Secretary Deon Isaac the 199-year leases were not for them but for their children, their children's children and their generations to come.
The estate was part of the Roxborough Estate in east Tobago that was purchased from Forres Park Limited.