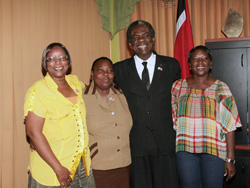 Born on August 31, 1962, Tobagonians Veca Venecia Hackett, Agatha Pierre McLean, and Rose Williams celebrated their 50th birthday while Trinidad and Tobago celebrated its 50th year of independence. The three women paid a courtesy call to THA Chief Secretary Orville London on Thursday at his Calder Hall Office.
"I feel proud being a citizen of Trinidad and Tobago and that we got our Independence at that time," Hackett said.
Four Tobagonians were born on that day. Hackett said those born in Tobago met up with those born in Trinidad at the National Day of Prayer and Thanksgiving at the Ato Boldon Stadium in Couva last month.
She fondly remembered when store chain owner Ram Kirpalani made a nation wide gesture, giving them a voucher from his store as a birthday gift. "It was nice to think that someone thought of us. That was on our 20th birthday," she said.
"I feel very proud to be born that day," Williams said. "I was born in Point Fortin, but I've lived in Tobago all my life." She spoke with joy when telling of her children giving her a surprise birthday party this year, seasoning the meat to prepare, putting up a big tent in Bon Accord where she resides, and inviting many guests. "It was so nice."
McLean, who was raised in Mason Hall, enjoyed the festivities as well. "The Mason Hall Village Council kept a function for all the Independence babies," McLean said. She smiled at Hackett, who is also from the village but now lives in Trinidad.
"I feel wonderful to know that I'm 50. I'm proud of my age and looking young still," she said.
McLean has fond memories of how she spent her birthday last year. She kept a birthday party at her job site in the Scarborough Market, and celebrated with her colleagues and the police officers who regularly patrol the area.
Asked if those born on that day had any traits in common, Hackett said, "We're vibrant and upbeat and spiritually inclined."
The women said they were hoping to celebrate with the nation many more birthdays.