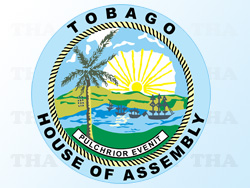 Two Motions are listed on the Order Paper for the May plenary sitting of the Tobago House of Assembly (THA) on Thursday. (23rd May 2013)
The first Motion is asking members to re-establish a Special Select Committee to examine the protocols and financial implications involved in having the debates of the House carried live on the Parliament Channel.
Such a committee was appointed on October 28 2010 but was unable to prepare and table a report of its deliberations including recommendations to the previous session of the House.
Current sittings of the Assembly are carried live on Tobago Channel 5.
The Motion will be presented by deputy Chief Secretary and Secretary of Tourism and Transportation Tracy Davidson-Celestine.
In the second Motion Leader of Assembly Business and Secretary of Health and Social Services Claudia Groome-Duke will ask the House to endorse the decision conveyed via Executive Council Minute No. 1177 of December 06, 2012 and grant covering approval for the continued payment of salaries, allowances and other conditions of service to the Chief Secretary, Deputy Chief Secretary, Secretaries, Assistant Secretaries and Minority Leader, for the period from dissolution of the House with effect from October 25, 2012 until the inaugural meeting of the subsequent Assembly.
In addition the Motion will seek approval of members for Assemblymen to continue to receive payment during the period following the dissolution of the House, of all monthly allowances to defray the cost of rental of office accommodation in districts, telephone and electricity services, as well as continued payment of salaries to all employees in district offices from the day of dissolution of the House or October 25, 2012 to Polling day or 21st January 2013.
Finally the Motion is asking that the Executive Council take the necessary action to ensure that all payments are made in accordance with provisions as outlined.