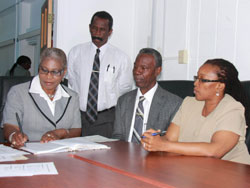 The THA Division of Settlements and Labour made a pay-out of nearly $1.25 million to 156 persons through the Home Improvement Grant programme and an additional $170,000. to 17 recipients of the Home Improvement Subsidy Programme last Thursday (March 3,2010). This comes on the heels of another cheque distribution in December of last year.
Secretary of Settlements and Labour Whitney Alfred in cautioning the recipients to spend the funds wisely emphasised that the Tobago House of Assembly saw it as critical that through the Department of Settlements it not only attempted to provide affordable housing for low income persons but also assisted existing homeowners to improve their present structure. He reported that from October 1, 2008 to September 30, 2010, 1164 residents of Tobago benefitted from nearly $9 million dollars in grants; while 55 persons received funds from the $550,000. Home Improvement Subsidy pay-outs.
On the issue of low income housing, Alfred added it was impossible for the Assembly to give every person a house and the THA had therefore found other means to ensure that residents of Tobago were comfortably housed. He said along with the bringing on stream of additional programmes the Division was partnering with non-governmental entities and private institutions to meet the challenges of inadequate housing in Tobago. He made a special call for young people to take advantage of the Young People Home Ownership Programme – an initiative that the Department collaborated with the First Citizens Bank and the Division of Finance and Enterprise Development.
Speaking at the cheque distribution ceremony at which a token representation of 19 recipients was invited, Settlements Director Tracy-Ann Anthony said: "Currently we are finalising plans for the second phase of our Adventure Housing Programme. This Phase within the Adventure Phase Two we will provide an additional 147 housing units. We are currently also in discussion with other private housing developers as it relates to other housing opportunities – the Belle Garden Phase Two, Blenheim Phase Two and Bacolet Housing Project." She added that the Department of Settlements has been collaborating with the Department of Land Management and also with the Town and Country Planning Division to develop a master plan for the Friendship Estate and the Tobago Race Club Lands. Anthony said her Department was also finalising plans for the soon to come on stream Home Completion Programme, as well as some other programmes which were aimed at increasing and improving the housing stock on the island.