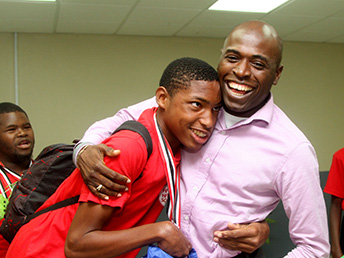 Athletes from the Happy Haven School and the Tobago School for the Deaf, Speech and Language Impaired were a proud bunch on Wednesday night after a successful outing at the Special Olympics Trinidad and Tobago (SOTT) National Games (21-22 March).
The children competed over two days in events such as athletics, swimming, bocce, volleyball and football at the Jean Pierre Complex in Mucurapo, Port-of-Spain, Trinidad. They returned home with a haul of 13 gold, seven silver and six bronze medals.
The students, principal of Happy Haven and other officials were greeted at the ANR Robinson International Airport in Crown Point on their return by Secretary of the Division of Education, Youth Affairs and Sport (DEYAS) Huey Cadette and other DEYAS officials.
Happy Haven principal Dianne LeCointe was very impressed with a number of the youngsters, including Michael Sealey, who just learned to swim and won two gold medals in that discipline at the Games.
Of Sealey, Le Cointe said: "The sports for children with special needs is modified and adapted. So when we heard swimming, Michael just started swimming. There are two events: a walk where you walk across the pool, and an assisted swim. In both events he won a gold medal."
The Happy Haven principal thanked the Division for its financial support, which allows the teams to travel to Trinidad for the competition every year. She also called on the public to support the youngsters by attending their events.
She also pointed out that five of the students from Tobago have been selected for the national team that will compete in the international Special Olympic Games in Los Angeles in July. These include Dester Faustin and Rayann Hughes (volleyball); Colin Duncan and David Kerry James (bocce); and Rickie Quow (athletics) brother of star national quartermiler Renny Quow.
Cadette, who received hugs from several of the students—most of whom had medals adorning their necks—expressed his delight at their showing.
"On behalf of the Tobago House of Assembly and all of Tobago, I would like to extend congratulations to the principal, staff and students of the Happy Haven and Tobago School for the Deaf on their recent success at the Special Olympics and PowerGen Games," Cadette said.
"Their efforts and achievements have proven to be an inspiration to us all."