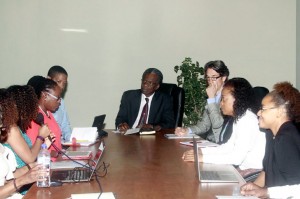 The Tobago House of Assembly (THA) will resubmit its draft Bill on self-governance for Tobago to Central Government because the last administration did not respond, Chief Secretary Orville London has said.
"It is a process that has started and a process that has a very good chance of success," London told a delegation of 12 young professionals from across the Caribbean and Canada who wanted to hear of Tobago's experience towards self-determination. They attended London's presentation on Tobago's drive towards self-determination at the Penthouse of the Victor E. Bruce Financial Complex in Scarborough.
London added: "It has been a long [process] and we in Tobago also understand that getting the political power is only part of the process. There is a whole question of introspection, people preparing themselves, their economic implications, their relationship issues; there is the question of balancing and making sure that you don't slip over into secession.
"This is going to be a very challenging period for us but I am saying that we made mistakes in the past and I am particularly comfortable that in this five-year period we should achieve some level of success," he added.
The young professionals were part of a Caribbean-Canada Emerging Leaders Programme— themed "Innovation through Transformation"—made a whirlwind one-day tour of Tobago yesterday (September 30).
It is an annual programme that brings together over 300 young people from varying countries who aspire to become leaders in their professions.
Members of the delegation came from Barbados, Bahamas, Jamaica, Canada and Haiti. Their interests include aviation, the coast guard service, trade unions, business, finance, public relations, economics, and youth and social development. The delegation's next stop is Jamaica where an evaluation of the programme will be done.