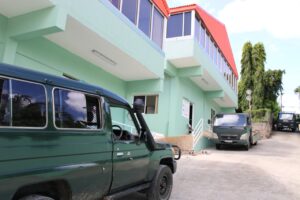 Chief Secretary, the Honourable Ancil K. Dennis, wishes to inform the public that the Tobago Correctional Facility, identified to house COVID-19 positive prisoners, will be shutdown with immediate effect.
Chief Secretary Dennis held a consultation with the Glen Road residents via Zoom today (November 19), where residents had the opportunity to freely express their concerns about the decision to locate the facility at Montessori Drive, Glen Road, Scarborough. Following this meeting, Chief Secretary Dennis immediately spoke with Minister of National Security, the Honourable Stuart Young, indicating that the Facility (currently unoccupied) should be closed immediately. Minister Young also agreed and subsequently acceded to the Chief Secretary's request and the recommendation to make alternative arrangements.
Chief Secretary Dennis assures the residents of Glen Road and environs and the wider Tobago community that the Tobago House of Assembly is committed to the careful and considerate development of Tobago.