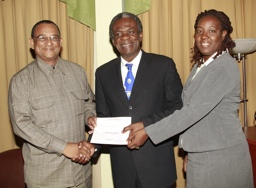 The Tobago House of Assembly on Thursday (24th April 2014) provided two more organisations with financial assistance to undertake improvement projects.
The 15-year-old Buccoo Reef Trust received a cheque for $120,000 from Chief Secretary Orville London, while The People's Pentecostal Church/the Pentecostal Light & Life Foundation received $65,391.30.
During the ceremony held at Calder Hall, London congratulated the organisations for their efforts to improve the lives of people and said he hoped the assistance would further invigorate them and encourage them to do more in the future.
In thanking the Chief Secretary and the Assembly for the assistance, Gerry Mac Farlane, director of the Buccoo Reef Trust, said the Trust would continue to partner with the Assembly in its educational activities in Tobago. He said that the Trust has been focussing on conservation works on the land and in the sea, and that the THA's assistance would help it to also look at the sources of pollution that have been affecting the fragile coral reefs around Tobago. "There is a lot of work to be done and there is a lot the Trust can do to alleviate this problem," he added.
Reverend Glenroy Frank, Head of the People's Pentecostal Church, said his church was very appreciative of the Chief Secretary and the Assembly for responding to its request for support, which would in part go towards the construction of a new building at Sangster's Hill, Scarborough. He added that, as well as building structures on the island, the church wishes to "instil moral and spiritual values in our youth and our young people".
"The effort that we are engaged in is to solidify the presence of God in our society; the religious aspect of our society is so vital because the only thing that could tame human behaviour is when their spirits are controlled by that higher power," Frank said.