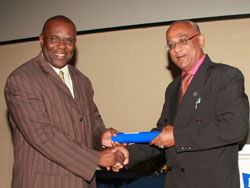 THA Chief Administrator Dr Ellis Burris made history last Saturday (11 June, 2011) by becoming the first Tobagonian to attain the distinguished elevation of Fellow of the Association of Professional Engineers of Trinidad and Tobago (APETT). He was one of nine engineers who received the honour for their service to Trinidad and Tobago.
For over 25 years, Dr Burris had consistently performed par excellence as a civil engineer on behalf of the State. He worked on several key projects in Tobago spanning from the construction of the L'Anse Fourmi/Charlotteville Link Road and the Scarborough Esplanade to upgrade of the then Crown Point International Airport and extension of the Scarborough Port Jetty. Also from a national level, he worked tirelessly on the initial development of the Utilities Corridor Project and new postal code for Trinidad and Tobago in the Ministry of Public Utilities.
Dr Burris has a BSc (Hons.) in Civil Engineering from the University of Massachusetts, USA and a Master of Science in Structural Engineering from the Washington University. He is the holder of a PhD specialising in Coastal Engineering from the University of Strathclyde, Glasgow, Scotland.
This award is just one out of several he holds for his contribution to the engineering fraternity. From 1998 to 1999 he won the award for "Who's Who in Science and Engineering. In 1989 he received a fellowship from the Organisation of American States (OAS). Dr Burris is also a member of the National Honour Society of Engineers (TAU BETA PI) in the United States of America and other prestigious organisations.
Tobago is proud of the achievements of this illustrious son of the soil. From Water Treatment Plant Operator at WASA to Permanent Secretary and Chief Administrator, Dr Burris has shown that nothing supersedes excellence.
APETT President Dr Rae Furlonge said a review of the country's National Awards revealed that not many engineers (less than one per cent) have been recognised by the State for their service to the nation. Indeed it is befitting for APETT to recognise and honour its own. APETT celebrates its 51st Anniversary this year.
Commenting on his outstanding achievement Dr Burris humbly said: "I continue to work indefatigably in the fields of engineering and administration as service to the world of humanity is my perpetual religion."