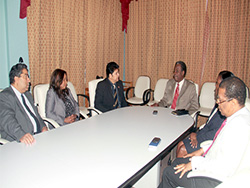 The Tobago House of Assembly (THA) is not making its views known on constitutional reform for Trinidad and Tobago at this point in time.
Chief Secretary Orville London informed the eight members of the Constitution Reform Commission headed by Legal Affairs Minister Prakash Ramadar during a 50-minute meeting on Tuesday (26th March 2013) at his Calder Hall office in Scarborough.
However, London said: "We recognise that it is a very important exercise and of course we pledge the commitment of the Tobago House of Assembly and the people of Tobago recognising that however, just as the Central Government, the Tobago House of Assembly is not going to have a formal position on any of the issues at this point in time."
He said the Assembly will encourage the people of Tobago as the people of the country to become as involved as possible in what was going to be an exercise that can have very far reaching effects.
London added: "We did indicate to the Minister that we are very clear that the issue of internal self government for Tobago is one that should not be embroiled in this particular process."
He said the Assembly had gone a long way and felt that should there be some separation it would have a chance of a successful conclusion in the short term and bring closure to that. He said that might be a catalyst or it might send some signal as to how the other aspect of constitutional reform can in fact be achieved.
London said his team at the meeting that comprised Deputy Chief Secretary Tracy Davidson-Celestine and Senior State Counsel Alvin Pascall were able to share a number of recommendations and suggestions. "We are satisfied that members of the committee are committed to gleaning the views of the people of Tobago and Trinidad and of course ensuring that that forms the basis for their recommendations on constitutional reform," London added.
Ramadar reported that the commissioners had a very successful meeting with the people of Tobago at the Signal Secondary School on Monday night where a lot of potent issues were raised. Two other meetings were carded to be held last night and tonight.
He said the commissioners were a bit disappointed that they did not formally meet with the Assembly.
Addressing London, the Legal Affairs Minister said: "You have spoken words of wisdom to us. We have all gained some insight from your experience in matters of a similar nature. To that end I think that we are Trinidadians and Tobagonians working hand in hand to improve all of our people's lives by constitutional reform, that is something that we must herald and I thank you for that."
Ramadar said the commissioners and himself as chairman were committed to reforming the constitution. He said the commission did not come with any draft but really to hear the views of the population throughout Trinidad and Tobago on the changes they would like to see in the new constitution.
He assured that it was not related in any way to the relationship between Trinidad and Tobago but certainly the issues of referenda, proportional representation, right of recall, fixed election dates, not more than two consecutive terms for a prime minister and the president to be elected by the population rather than an electoral college. "Some of these which we have never considered before we are hearing from the voices of our people so look forward to that," he declared.
Ramadar promised that at the end of the exercise the commissioners would present a report to the population before taking further steps.