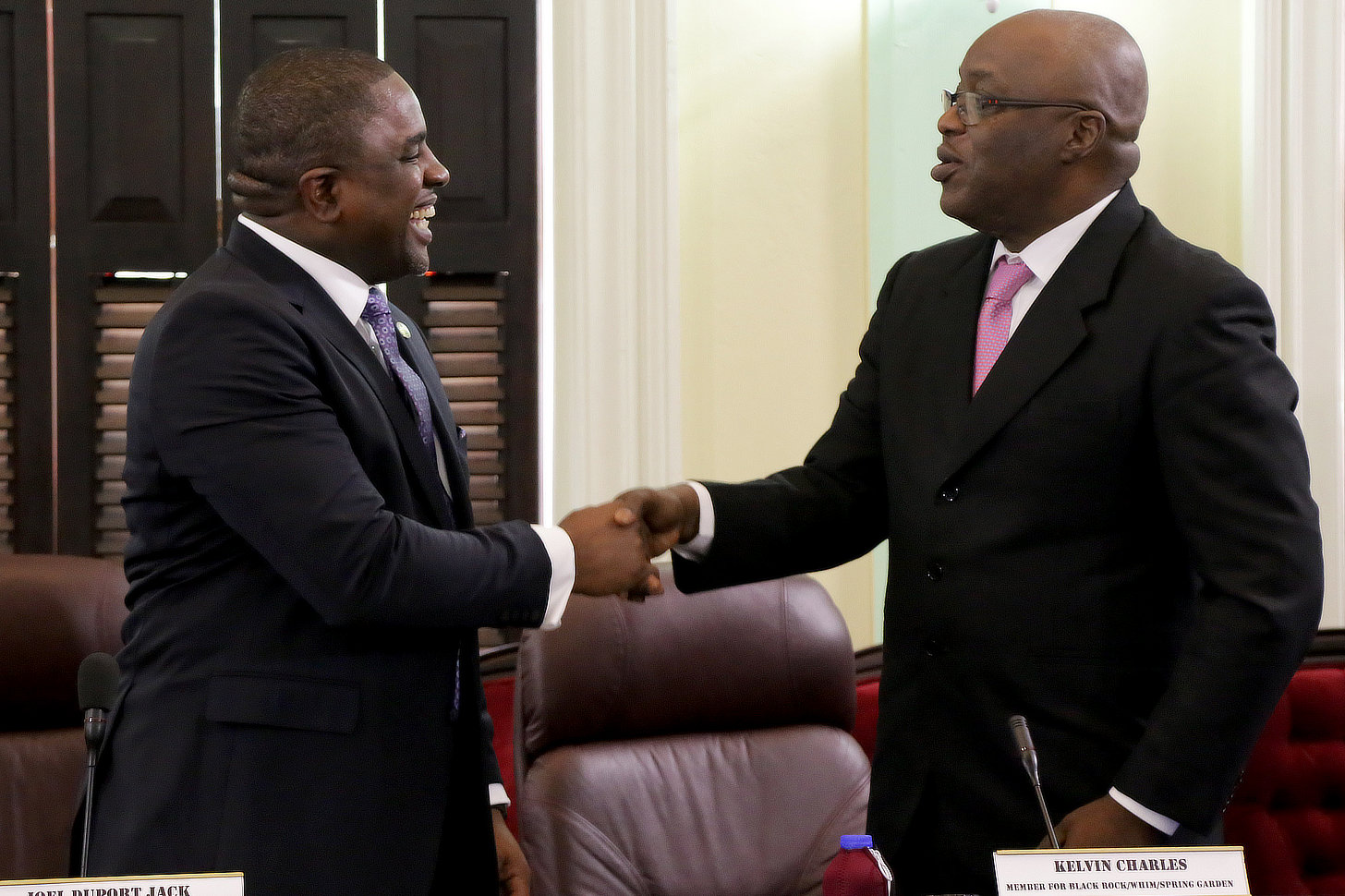 As the THA moves to boost the agriculture sector a concerted effort will be made to link it with the school feeding programme. Seed funding will also be provided to encourage more people to undertake agriculture venture.
Secretary of Finance and the Economy Joel Jack said human capital development was "central to the developmental strategy of this Administration." This while he presented Tobago's budget request for Fiscal 2017-2018 yesterday (June 23, 2017).
Jack's fiscal 2017-2018 expenditure estimates include a development request of $1.71 billion and recurrent estimates of $ 3.2 billion, totaling $4.91 billion. Under recurrent expenditure, the school feeding programme will cost $50 million and the Agricultural Incentive Programme $4 million. The development programme estimates include an Agro-Park at Friendship Estate at a cost of $10 million and the Agricultural Access Roads Programme at $80 million.
During the presentation, the Secretary indicated the Assembly will initiate financing mechanisms to benefit the economy. This will include a cocoa rehabilitation programme through the Division of Food Production, Forestry and Fisheries.
"We are cognizant of the fact that fine flavoured cocoa is in high demand and fetches premium prices on the international market. We are also mindful of the historical importance of cocoa to the Tobago economy. The Division proposes to utilize agricultural lands to develop an effective value chain in cocoa and chocolate production," he said.
Priority will also be placed on facilitating youth involvement in agriculture, through training and a revision of the Youth Apprenticeship Programme in Agriculture (YAPA), Jack said.
In addition, "during the next fiscal year, the Division of Education in collaboration with Inter-American Development Bank (IADB) will begin construction on five (5) Early Childhood
Centres in Roxborough, Courland, Adventure, Bon Accord and Belle Garden," he said.
Themed, "Unleashing the creative and productive capacity of our people," the THA budget presentation was held at the Assembly Legislature building, Scarborough.
"Personnel Expenditure- $858.3 million, Goods and Services- $1.2 billion, Minor Equipment Purchases- $127.2 million and Transfers and Subsidies- $1.05 billion," Jack said. He noted that the requested amount was a reduction of just under $22 million from last year's request.
Jack allocated estimates to each of the THA Divisions. The three receiving the highest estimates were the Division of Health, Wellness and Family development ($794.1 million), the Division of Infrastructure, Quarries and the Environment ($539.5 million), and the Division of Education, Innovation and Energy ($498.1 million).
The budget focused on building economic resilience; fostering innovation and creativity; supporting tourism; revitalising agriculture; developing human capital; providing housing opportunities; enhancing health care delivery; fostering and stimulating rural development; holistic development of young adults; preserving Tobago's pristine natural environment and empowering and building communities.
In addition to agricultural initiatives, the Assembly will review potential Public Private Partnership proposals in order to develop innovative solutions to housing needs in Tobago.
"As we seek to address our current and emerging challenges, our success will depend on reasoned collaboration, mutual trust, and reliance on our sense of patriotism," Jack said.
The budget debate is set to begin next Tuesday (June 27, 2017).