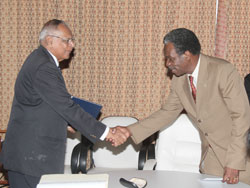 The seven-member Criminal Injuries Board (CIB) headed by retired Justice Shafeyei Shah held its first sitting in Tobago on Tuesday (24th January 2012) to consider applications from six Tobagonians for compensation under the Criminal Injuries Compensation Act.
Earlier the Board paid a courtesy call on THA Chief Secretary Orville London at the Calder Hall Administrative Complex where the six appeared before the members to provide additional information on their applications.
In welcoming the Board to Tobago London commended the members for coming to the island to consider the applications instead of them having to spend additional money to be in Trinidad for their hearing. "I think it is an excellent gesture on their part to be able to treat with Tobagonians who are desirous of appearing the Board," he said.
Alluding to the August 2009 incident in which British couple Peter and Murium Green were attacked at their holiday home in Bacolet, London added: "I want to remind the people of Tobago that one of the issues that has been in the spotlight for a very long time, that the Board does not have the authority to give ex-gratia awards exceeding $25,000 for any single incident and therefore they must operate within those parameters. Regardless of the grievousness of the hurt they can do no more than that. I needed to put that out there so that the expectations of the people of Tobago will be in sync with the realities and the parameters within which the Board operate."
Shah stressed that the law provided for the $25,000 limit on the ex-gratia payment it can make for any one injury and recalled that because of this limit the claim by the Greens "has been a very difficult matter".
Shah said he hoped there would be no new applications from Tobagonians in future because his Board wished that the island would be crime free.