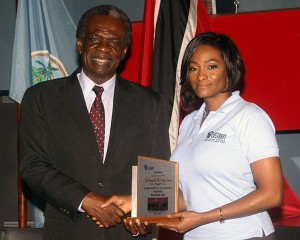 Chief Secretary Orville London has once again made it clear that in seeking autonomy, Tobago does not want to split from the state of Trinidad and Tobago.
London made the comment during a courtesy call with over thirty students from the College of Science, Technology and Applied Arts of Trinidad and Tobago (COSTAATT) at the Administrative Complex yesterday (November 23, 2015).
He explained that Tobagonians only want a greater say in managing the island's affairs.
"If it's one way to get a relationship to fail it's for one party to determine the rules," London added.
The Chief Secretary shared a brief outline of the history and structure of the THA, including the union between Trinidad and Tobago in 1889 by the British government, and Act No 40 of 1996, which gave the THA "devolution of power" over 33 areas of responsibility.
London indicated that autonomy would remain an important discussion between Tobago and the Central Government until a consensus is found on the way forward.
When the group of students—including members of the Trinidad and Tobago Defence Force, Police and Prisons Services—arrived at the Office of the Chief Secretary, London welcomed the students, joking that he felt "well protected" in their presence.
The visit was part of their Public Sector Management class and allowed them an opportunity to engage the THA leader in a question-and-answer session about autonomy.
"Sessions like this help us to understand one another better, to get rid of some of the suspicion and false information," London said. "We want the views of all of Trinidad and Tobago."