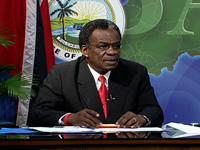 THA Chief Secretary Orville London is urging Tobagonians to study the fourth draft of amendments to the THA Act No. 40 of 1996 and the Constitution of Trinidad and Tobago and submit their views to the Working Committee responsible for the process.
He said he wanted them to understand the importance of treating with the draft Bill as it was maybe the most important document with which they have got to treat with in this generation. He stressed: "Not only that but how you treat with it in this generation could affect the future of generations to come. I urge all of Tobago and I also urge all of Trinidad to look at the document and to make your views known to the Committee," The Chief Secretary told reporters at the post Executive Council media briefing on Wednesday.
London reiterated that the document was still under the purview of the Committee headed by Dr John Prince, noting that "one of the things on which I can pride myself as Chief Secretary and this Administration is that we have not attempted in any way to influence this process. We have not attempted in anyway to take the process from the people and or in anyway to disrespect the views and the concerns of the people and we plan to do just that".
However, he said, as leader of a political party in Tobago and even with the PNM as the national party they reserved the right to comment and will be involved in the discussions. He stressed: "We will not attempt to unduly control the process so as to subvert the wishes of the people."
London said this was a very important phase in Tobago's development and he really hoped that Tobagonians and Trinidadians will treat with the document with the importance that it deserved because some of the amendments to the Act were quite critical.
"This is the people's process so that the document is not a PNM document. It is not even an Assembly document. It is a document that emanated from the people and is now presented back to the people for their comments. This is to me is maybe the most critical part of the process," he said.
London said he also wanted Trinidadians to participate in the process because it was about a relationship and therefore in a relationship both parties in the relationship must understand and appreciate and accept the terms of the relationship because it was going to impact on both Trinidad and Tobago.
The two pieces of draft legislation were revealed by the Committee on Tuesday and were being distributed to every household in Tobago via TTPost. The Committee will host three public meetings in about two months.
The drafts were prepared by Senior Counsel Russell Martineau with assistance from former Madame Justice Monica Barnes and were based only on the recommendations of the public that would have gone to those two individuals or gone to the Committee.